LUELLI Teeth Whitening Kit
Using our at-home Teeth Whitening Kit, with a powerful LED lighting system, now you can accelerate your teeth whitening after just one use, breaking down stubborn stains that result from coffee, tea, drinks, wine, and so forth.
Professional Formula / Instant Result / Home Treatment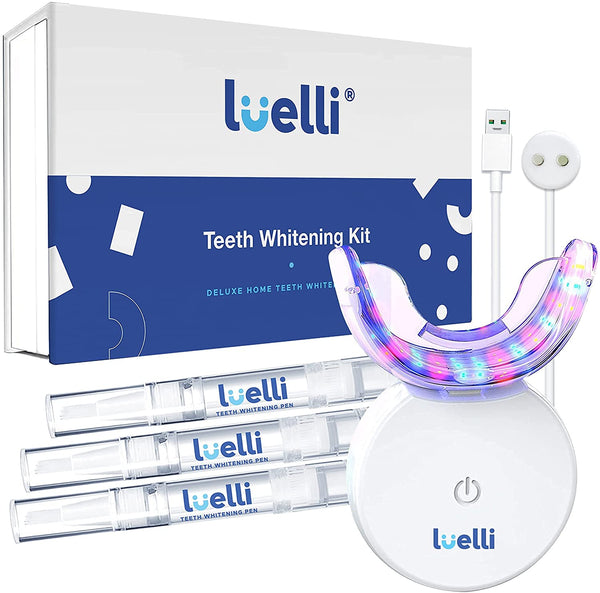 Instant Result

Instant whitening result after one use, and a big change in seven days with LED-activated whitening technology, clinically proven result.

Treatment at Home

Get your teeth whitened at home, 10 minutes per day. Do it on your own and at home with ease.

Professional Formula

Teeth whitening gel contains 35% carbamide peroxide delivers dental grade results with zero sensitivity.

Safe and Secure

Made in FDA-registered manufacturer, enamel-safe teeth whitening kit.
Luelli Ultrasonic Dental Calculus Remover
Without proper dental care, plaque and food stains rob you of your pearly-white smile. The Luelli Ultrasonic Dental Calculus Remover uses the power of sonic resonance to remove tartar and plaque better than an electric toothbrush or dental floss.
Ultrasonic Technology / Three Operation Modes / Two Types Cleaning Head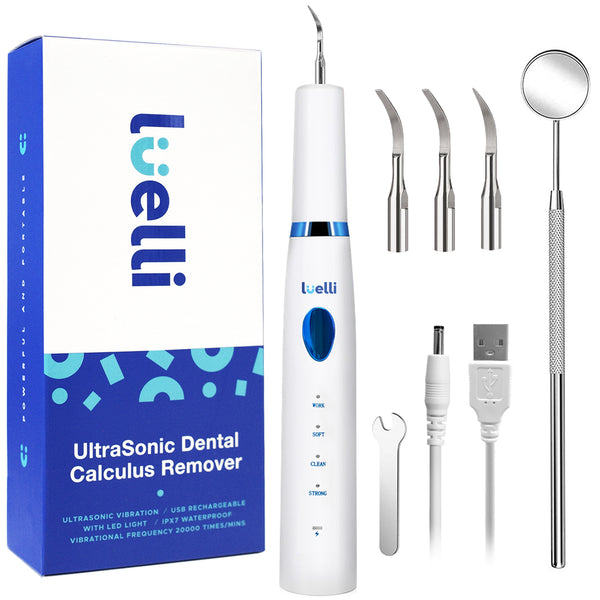 Ultrasonic Technology

Over 2M vibration in one minute with 36KHZ vibration frequency, remove dental calculus, plaque, and tooth stains effortlessly.

No Vibration & Low Noise

Unlike the motor vibration plaque remover on the market, the handle of the ultrasonic one has no vibration and low noise, very comfortable to us.

Three Cleaning Modes

Low for sensitive teeth; Medium for dental stains and plaque; and High for deep cleaning of older, stubborn tooth stains.

Sharp & Flat Head

Medical grade, non-toxic, and BPA-free cleaning head. Use sharp head cleaning between teeth and flat head on teeth surface.
Testimonials
I wanted to brighten my smile a bit... seeing as life is pretty dark during these times! Started the 1st one before Thanksgiving and noticed a difference right away! 30 mins of use brought on no sensitivity! But just in case, it does come with a application for sensitivity as well. Great product! And I'm not spending an obscene amount of money for a dentist to do it!
This kit was easy to use and worked!
The directions are clear and the mouth piece is comfortable enough that I can use this while watching tv or doing things around the house.
I am really pleased with the results that I've seen with this kit - my sister noticed and now is thinking about ordering for herself.
I would recommend this kit and definitely would get it again!
If you are on the fence about buying this product don't be. I absolutely love it! It is so easy to use, works really really well and it does not bother my already sensitive teeth! I put the required amount in the trays for top and bottom then I spread the gel out so it's even on the tray then I pip it in for 20 to 30 minutes. It will cut off at 10 minutes so I just press it again to restart. I brush my teeth before and then after my whitening time I just rinse off the remaining and I'm done! I love it and it really does work. I could tell a difference after 1 treatment!!
Amazing Product. 50% whiter teeth in 6 x 10 minute sessions, for 6 consecutive days. I have used this treatment for only 6 days in a row, for only 10 minutes each time. (as I was concerned that the pain would come if I went for longer times). AND, IM NOT EXAGGERATING AT ALL...., BUT IN 6 SESSIONS, MY TEETH ARE ALMOST 50% WHITER.(with only 10 minute sessions). And, I've only had to use the
"Pain Relief Gel" once or twice. And, to be honest, it wasn't really necessary. The pain was minimal.
This is a serious cleaning tool.
It is well packaged and has multiple tips to use, 2 pointy ones for removing calculus and 2 flat head (like a tiny screwdriver) for cleaning the surface of the teeth. I charged it overnight. When you turn it on, it is extremely silent and moves so fast you can't even tell it's on, until you touch something with the tip. It has a little light so it helps you to see the area you are cleaning much better, also has a small dental mirror just like your dentist would use. You want to be sure to move it along your gum line very quickly because it does heat up very quickly (friction) and will sting, but it really does work well. It doesn't take a whole lot to remove the hard tartar from your teeth. I would recommend using a magnifying mirror so that you can see the details of your teeth. Very pleased with this product. Hopefully my dentist will be too!
I love this kit. It has the same tools that my dental office uses so I can get the same super clean feeling at home. Having electric dental tools really makes a huge difference in effective cleaning. With all of the different tools this kit comes with, you can use it for so many things, and for a great price.