Teeth Whitening Kit with LED Accelerator Lights
$29.99
$39.99
saving
$10.00
| /
Teeth Whitening Kit with LED Accelerator Lights
$29.99
$39.99
saving
$10.00
| /
Teeth whitening treatment conducted at home. 
35% carbamide peroxide teeth whitening gel and blue LED accelerator light give instant results. Easy and safe to use.
Instant results after first use.

Professional ingredients: teeth whitening gel syringes with 35% carbamide peroxide.
5 Blue LED-activated whitening technology accelerates the whitening process, 10mins auto timer. 
Made in FDA-registered manufacturer, 

enamel-safe kit.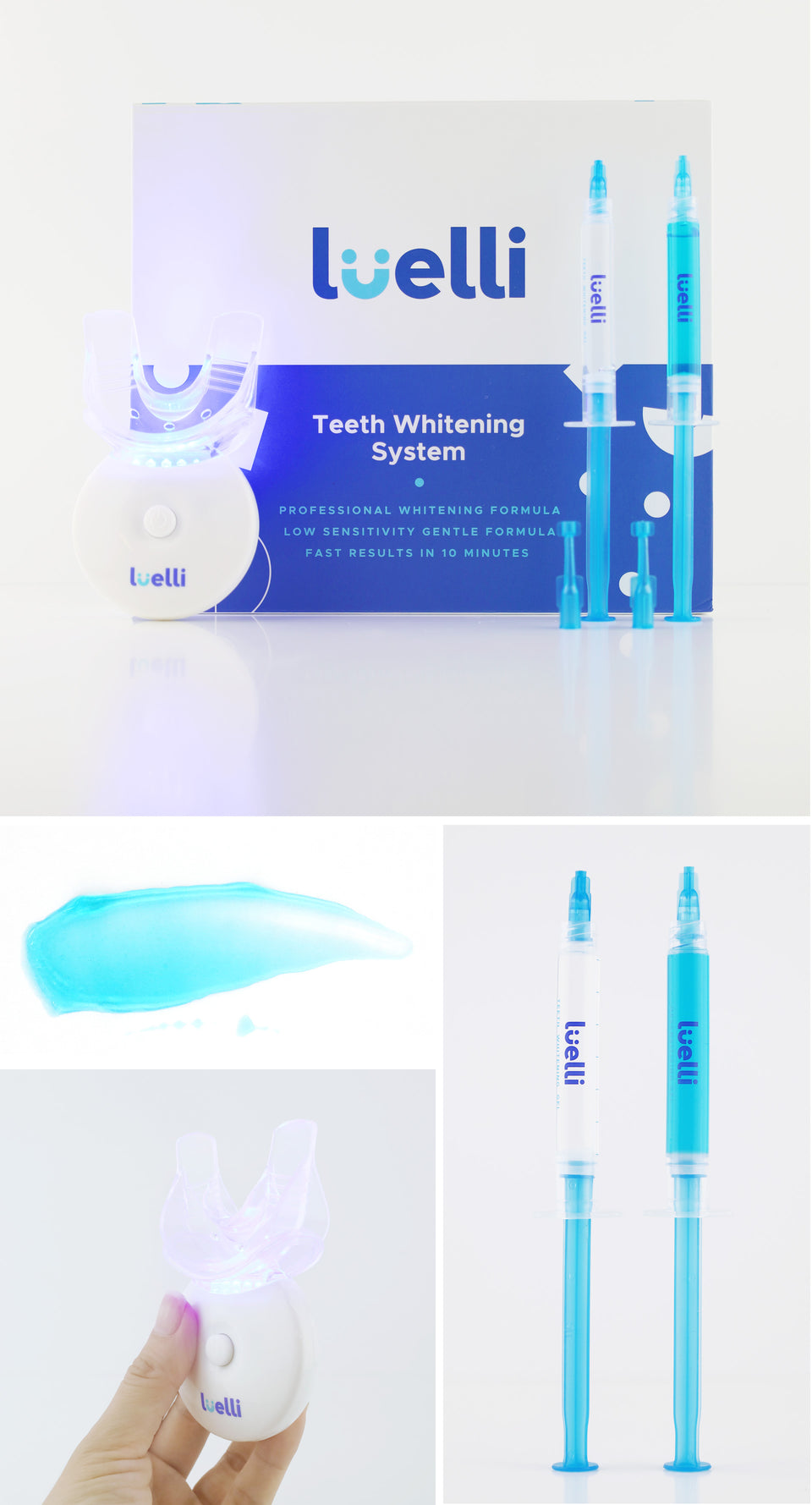 What's Included

1* led light, 1* Whitening Bite Tray, 3* 3ml Whitening Gel Syringes, 1* Desensitizing Gel Syringes, 1* Whitening Shade Guide , 1* User Manual

Ingredients

Teeth Whitening Gel Ingredients: Carbamide Peroxide, Carbopol, Propanediol, Glycerine

Desensitizing Gel Ingredients: Potassium Nitrate, Carbopol, Deionized Water, Glycerine

How to Use

Attach the mouth try with LED light. Remove the plastic tab in-between the batteries, as shown in the video.

Remove the cap of the syringe and release the whitening gel into the mouth tray, 0.5ml for each part of the mouth tray, 1ml in total for one use.

Put the mouth tray into the mouth and cover the teeth. Turn on the whitening light.

Treatment will end automatically in 10 minutes, you can do one or two more sessions based on your needs. Rinse or brush your teeth after treatment.

Tips & Cautions

The desensitizing gel included is to help with tooth sensitivity. If you are experiencing sensitivity, use this blue gel after treatment. Apply the blue gel on the mouth tray, and put the mouth tray into your mouth, leave it in around 15-2 minutes and rinse your teeth. Do not need to use led light in this step.

Recommended use time: 10-30 minutes per whitening session for 7-10 consecutive days in general. We recommend no more than 14 days for one treatment cycle. After one treatment cycle, wait 2-4 weeks until the next cycle.

You may also whiten your teeth without the tray by applying the whitening gel directly to your teeth with a cotton swab and shining the light on it. Always do your best to minimize gel contact with your gums, tongue, and inner cheeks.